Kokowa a new platform that wants to democratize 3-D creation by making it as simple as building a Squarespace website. Log onto the free web app and you can click, drag, and drop your way to building bizarro worlds that you can view on your phone and tablet and later upload to virtual reality platforms.
IN THE CENTER of the screen, Vladimir Putin sits on the ground, shirtless, an arm tucked suggestively behind his head. To his left, a gilded lion stares into the distance. Both CGI objects are framed by ornate, temple-style architecture and a hazy, blue-and-pink sky that stretches in all directions. The scene is a fully-formed 3-D world, one that you can fly through and inspect from any angle.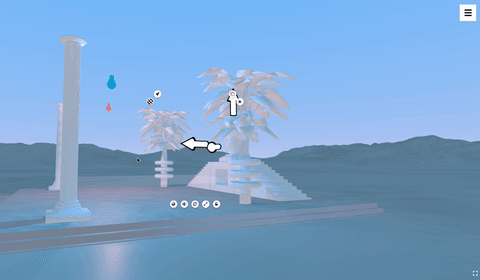 Virtual world-building isn't usually this easy. Microsoft has done a good job of simplifying the process with its new Paint 3D, but it doesn't come for free. Meanwhile, companies like High Fidelity and Sansar have their own versions of drag-and-drop software, but even they can overwhelm the technologically faint of heart. Crafting a VR environment, for the most part, requires a host of technical skills. There's the 3-D modeling. And the coding for that modeling. Not to mention making sure your virtual reality world works on a variety of platforms. These barriers to entry limit who can use the tools.
https://www.wired.com/2017/04/want-kick-putin-virtual-world-kokowa/